Romantic Trips – New Orleans
Couples love coming to The Mansion. It's the New Orleans Bed and Breakfast for honeymoons, elopements, romantic getaways, mini vacations and even staycations. Furthermore, we can set the mood for the occasion by preparing your room before you arrive. We offer romance packages that include: rose petals on your bed in the shape of a heart, a bottle of wine, champagne and dessert. Whatever you desire we'll make it special.
Pre-order a bottle of champagne, wine, flowers or decorations; and they will be waiting for you for that extra special surprise! Call us today to request or select "Room Enhancements" when you book online.
your room now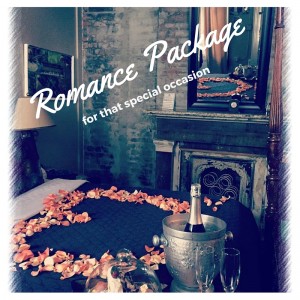 That Special Romantic Touch!
The Mansion is contemporary mixed with southern charm and has an exquisite romantic atmosphere. Even more, The Mansion is an adult only establishment. Our guests have certainly been loving this extra special touch. It allows them to go over and above surprising that special someone. We also offer BIRTHDAY PACKAGES that include balloons, cupcakes, flowers and a bottle of champagne or wine. While our ANNIVERSARY PACKAGE includes flowers, a card, gourmet dessert and a bottle of champagne or wine. You can customize your special package to include whatever you like. Our packages run around $70.00. If you would like to add anything extra please feel free to give us a call!
Here are a few TESTIMONIES from our guests that had great things to say about their Romance Package Experience.
The worst part of my stay was it was only one night!!! The entire experience was amazing, between booking online and the late check in (due to flight delays). My boyfriend and I got the "Romance Package" room enhancement to celebrate our anniversary. As soon we stepped onto the grounds of Fleur de Lis it was breathtaking (even though it was around 8 pm and dark outside!). Whenever I visit New Orleans again, a stay here is a must! Recommend to all!! Tess 2/4/16
Perfect Place for Romance. The room was set up with beautiful roses, wine, and cake, The staff was fantastic. The jacuzzi tub was amazing, and we loved the six shower head shower with tv as well. The room was quiet and clean. The breakfast was decent, and we enjoyed the free happy hour every night.We stayed in the Fleur de Lis room. The room was set up with beautiful roses, wine, and cake, The staff was fantastic.
Diana 10/23/15